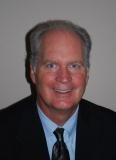 Health Insurance Specialist
As an office partner with Daines Financial since 2004, Larry helps corporations and individuals, young and old, with their health and group insurance needs.  Health insurance has become increasingly complex to research, enroll and maintain.  Larry will listen to your needs and assist in the discovery of the perfect company and plan design for you.
A designated Chartered Financial Consultant (ChFC) Larry's expertise is extensive.  He has specialized in financial planning for over 30 years.
Larry is married to his wife, Donna.  They have two daughters and three grandchildren.